CNC machines PRO-MASTER 72 series: Master extreme machining dimensions in wood machining with confidence
Step up to the next generation of CNC machining with the 72 PRO-MASTER series from HOLZ-HER. The 72 series CNC machining centers are distinguished particularly by their extreme machining dimensions and perfect cutting results as well as high material removal rates.
Generous machining dimensions for the console table with up to 7,200 mm in the X direction and 1,600 mm in the Y direction as well as a Z stroke of 565 mm provide for highly variable, custom machining on the 72 series CNC machines.
The 72 series is completed by a versatile and comprehensive range of optional equipment to satisfy all desires, allowing each CNC machining center to be configured optimally for applications in the fields of furniture production, staircase construction and model making as well as machining solid wood.
The 4-axis PRO-MASTER 7222 and the 5-axis PRO-MASTER 7225 have an enormous machining capacity with effective machining height of 300 mm - from the top of the suction cups.

CNC machining center PRO-MASTER 7225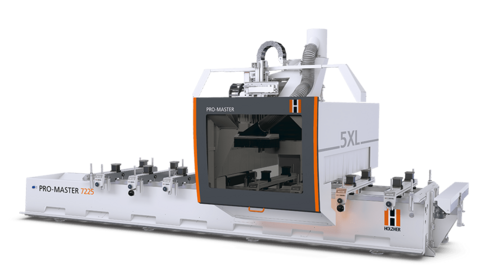 The power package with leading 5-axis technology
Full Interpolating 5-Axis Head
Multifunction Machining Head
Highly Flexible Table Concepts
Tool Changer for Variable Machining
Extreme Acceleration Values
Detail page PRO-MASTER 7225
CNC machining center PRO-MASTER 7222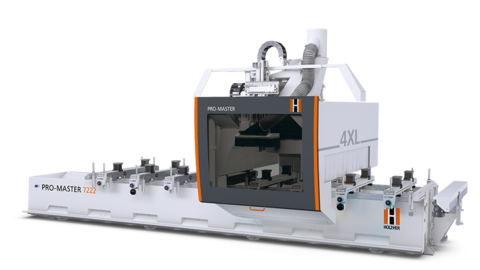 Powerful high end CNC with 3 or 4 axes
Powerful Cutting Spindles
Multifunction Machining Head
Highly Flexible Table Concepts
Tool Changer for Variable Machining
Extreme Acceleration Values
Detail page PRO-MASTER 7222
---
Here is what the HOLZ-HER 72 series offers