HOLZ-HER DYNESTIC Series: Time savings in production with HOLZ-HER nesting technology
HOLZ-HER has its brand new nesting technology on the market. Get all information about the innovative nesting CNC machining centers DYNESTIC 7532, DYNESTIC 7507 and DYNESTIC 7505. All three machining centers have a high automation capability and are available in different equipment variants.
HOLZ-HER's nesting technology ensures efficient formatting and drilling on one machine. Here the panel is held by large-surface vacuum on a wear plate. The great advantage of this production method is production of exactly formatted workpieces, already provided with groove or rebate in the rear wall and all required vertical holes for shelves, connectors, etc. Above all the entire process is accomplished without additional handling work and is therefore extremely efficient in terms of time and resources.
The essential prerequisite for nesting is, however, that the proper software be fully integrated into the machining process. Here HOLZ-HER offers a free-form solution for stairs and frame constructions as well as a purely rectangular nesting feature. With its versatile import possibilities for highly differing nesting modules as well as complete graphic control surface and barcode interface, the machine is optimized for comprehensive applications.
HOLZ-HER's nesting CNC machining centers allow cut-optimized machining and cutting on panel materials. The automation components for material handling makes the DYNESTIC series even more efficient.
---
Here is what the HOLZ-HER DYNESTIC series offers
Three heroes – one vision: 5-axis CNC Nesting machining!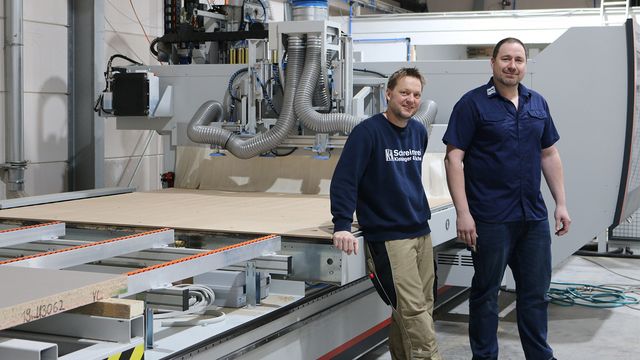 A story with three heroes: Sascha Kleisinger, his best friend Alexander Michel and the new NEXTEC 7735. These two carpenters founded their mutual company, the K&M Carpentry Shop, 17 years ago in a cowshed with 200 sq. meters of floor space.
From the very beginning the common idea was: "We want to build high quality, sophisticated, beautiful furniture." Today the shop is located on a 6,000 sq. meter lot and has 30 employees. The prerequisite for such success stories is creative and rapid reaction to changes in the market. Sascha Kleisinger: "After just a short time, we started making plans to industrialize our carpentry shop, without sacrificing our positioning as a craft shop." This was the time to take the third hero on board. The new NEXTEC 7735 from HOLZ-HER. This ingenious machine concept was the basis for the planned further growth perspectives. As the two carpenters saw their first NEXTEC demonstrations, they knew: That is precisely the CNC technology we were looking for.
On the 15 meter long machine with elevating table and conveyor belt, Sascha Kleisinger and Alexander Michel produce furniture components for regional carpentry shops as capable service providers. For this purpose a 1,000 sq. meter building was rented and a private company established with the name: Rheinhessen-Möbel [Rheinhessen Furniture] "This clearly shows that we are not competitors, but rather partners for our colleagues with fewer machines. But we also want to work for kitchen studios, who are otherwise dependent on the long delivery times in the industry." K&M serves private customers exclusively.
Saws, edgebanders and CNC machining centers from HOLZ-HER were in operation at these successful carpenters from the very beginning. "This was the key to building up a bond of trust in the course of years. Technology, performance and service provide a perfect overall picture for us. This is also why we were confident in putting our full trust in a top machine like the new NEXTEC."