High quality furniture with the HOLZ-HER ACCURA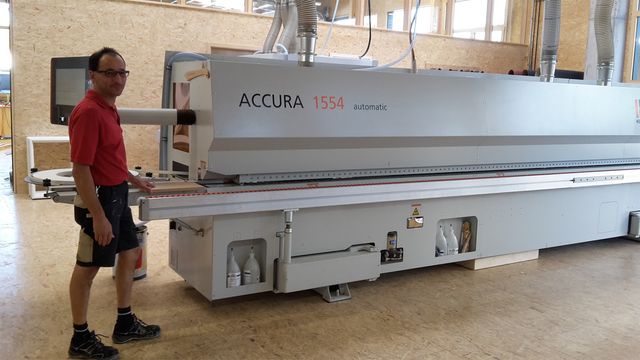 The Kleinhans Company in Kehl has worked with HOLZ-HER machines since the 2002. In January 2016 the company decided to make a further investment to enhance their quality: They invested in an edgebander from the successful ACCURA line.
The Kleinhans Company has been in business for over 50 years and, in the meantime, is being managed by the second generation. The team consists of skilled craftsmen such as carpenters, glazers and window makers with a staff of over 50.
Based on the exceptional skills of its employees, the product line produced by the Kleinhans Company is equally impressive: In addition to windows, doors and kitchen cabinets, the company is specializing more and more in the areas of furniture and interior finishing - true to its motto: "Wood and Design for Quality".
The new ACCURA 1554 edgebander was purchased especially for the areas of interior finishing/furniture. The edgebander uses multi-function technology. The advantages are obvious: The multifunctional package for cutting, corner copying and radius scraping provides a perfect appearance for all normal edgebanding processes. Tool-changing is a completely automatic process with the NC servo-axes and the multi-stage tooling technology. For the Kleinhans Company the ACCURA 1554 guarantees professional edgebanding with all required processing attachments.
The company has already had an opportunity to present the new machine to customers: At their Open House in July 2016, several hundred visitors were anxious to become acquainted with the production facilities at the Kleinhans Company during a personal tour.